Live Review
Swim Deep, Electrowerkz, London
1st April 2015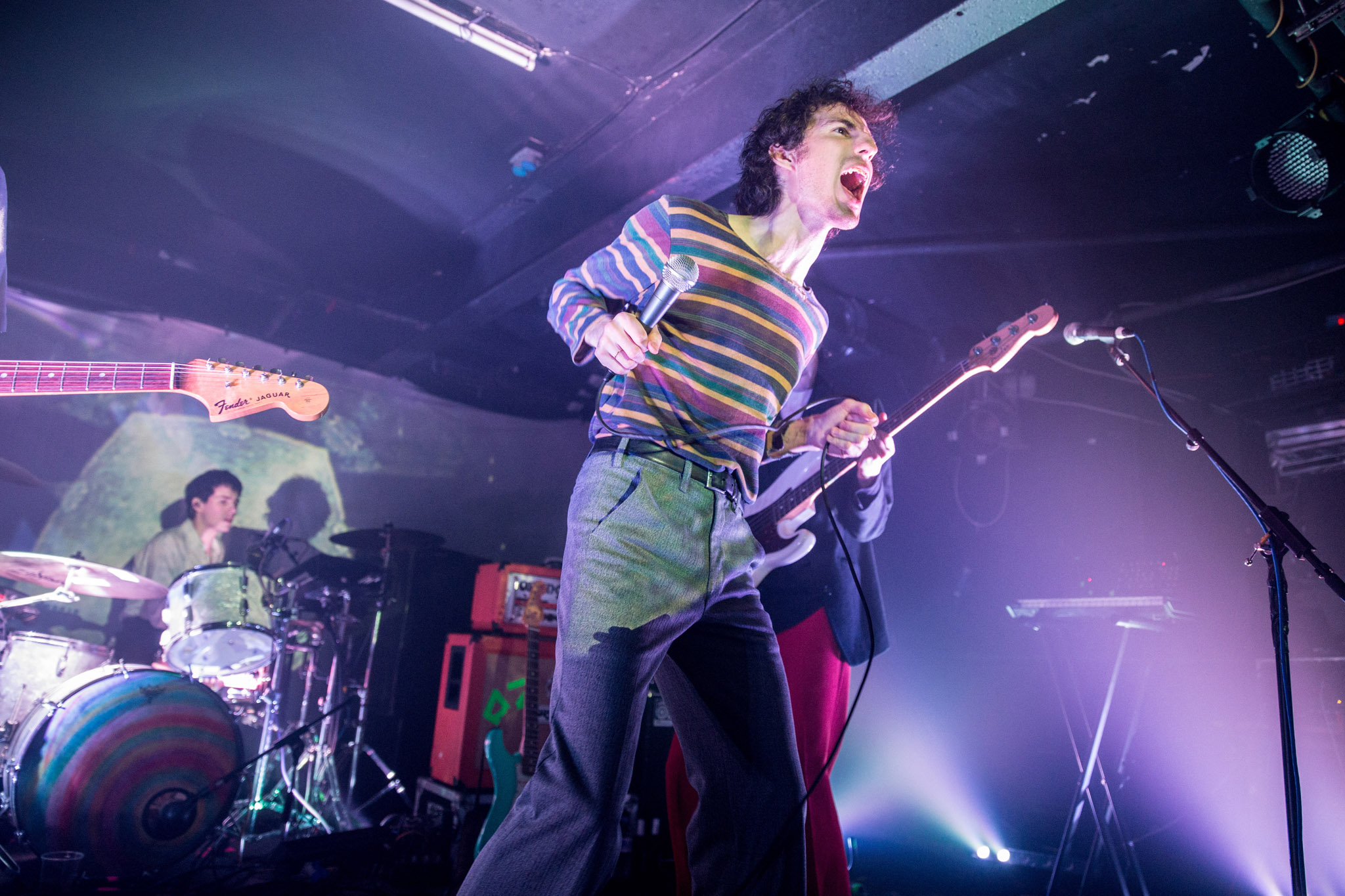 Yet, as Ridley Scott would appreciate, it may be alien; but that sure don't stop it from being bloody incredible.
At exactly half-past nine, Austin Williams – indie hero, fashion eccentric and frontman of Swim Deep – glides onto the stage, and introduces the opening track with: "This one's a little bit weird". That's the moment when it becomes clear that everything has changed. The setting, for one thing, seemed just a tad out of place for a band who had built a reputation on singing 90s, acid-washed lyrics such as "life ain't beige / so colour your days". Electrowerkz is about as colourful as an oil spill; it is harsh and crude in its snaking metallic pipes and seedy neon lighting, seeming more like the set of a Bauhaus video or an underground factory than a place to celebrate tie-dye and how good the Stone Roses were.
And bloody weird it is. Out are the sugary hooks and slacker vibes. In? Insanely dense krautrock-inspired instrumentation, a whiff of Berlin at night, a hugely extended running time, darkwave synths and a monomaniacally repeated motif of 'THE HOUSE OF FUN'. Basically a whole sonic revolution has taken place under the round-glassed eyes of the band's fans. Almost everything seems alien; the Martian lighting, the otherworldly synths; and the fact that a band who were all about three-chord tunes and not caring about knowing how to play bass are suddenly churning out massive, post-apocalyptic jams.
Yet, as Ridley Scott would appreciate, it may be alien; but that sure don't stop it from being bloody incredible. Most of the time, everything is expansive and jaw-droppingly rich in sound. The opener ('Fueiho Boogie') may indeed be as odd as it gets, but its ending is transcendent to say the least; while the cheekily-named 'One Great Song…' features one of the most insane, kaleidoscopic synth hooks to grace this planet. The permanent addition of James Balmont on keyboards has certainly made a huge difference to their sound, injecting it with #WTF synths left-right-and-centre, and their old songs are played with a far more psychedelic coating; 'Red Lips I Know' is almost unrecognisable in its chanty and trippy reinvention. It is certainly true that some of the hooks get obscured in the mix; 'Namaste' got lost in its own wave of shimmering synths, and 'Honey' feels a little flat. But you still can't get away from the fact that Swim Deep have put their bollocks on the line to create a pretty incredible new sound; even if it is just a little bit weird.